Over the last couple of months I have been working with an intermediate teacher who is very keen on using technology in the classroom and in particular the use of video. During our conversations on how to implement this technology in his curriculum I was drawn back to a very engaging presenter that came to Thames Valley back in 2007. In the early part of 2006, during my time as a Learning Coordinator for Technology many teachers had expressed in interest in the idea of Digital Storytelling in the classroom. As a group of Learning Coordinators we decided to find an expert in the field that could help us explore the concept. This led us to Jason Ohler. The idea that really excited us about his message was the DAOW of Literacy - how oral and written storytelling using art to create digital stories are key literacy skills that reinforce each other.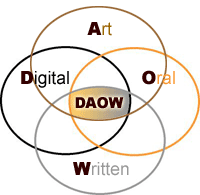 Jason's bottom line is "no matter how sophisticated our technology becomes, the future of digital storytelling will involve writing and conventional forms of literacy." With that one powerful statement we knew he would be a fantastic resource for our teachers. He didn't disappoint. He led a captive audience along a path of digital storytelling that presented real student examples and practical ideas that any classroom teacher could use immediately. A great starting point for anyone wanting to find out more about digital storytelling should read this page from Jason's website.

Back at Tweedsmuir we have purchased 5 high end computers, digital video cameras and green screen materials to enable us to engage students in digital storytelling. Although we are at the early stages of implementation we are already seeing higher levels of engagement, not only in the video creation stage, but in the writing process as well. As I watched students create news stories based on Romeo and Juliet I could help but notice their excitement around a story that at the same age I found irrelevant and boring. Our goal is to post student created videos on our school website to celebrate the amazing work of our students. So keep checking our Tiger TV channel. Below is an example of a video that Jason left us with called A Good Dad. It's a young man's digital story about a dramatic event in his life. He created this story in the context as part of his therapy. It is low tech but has high impact. It was created in only 12 hours. It is a testimony to the fact that glitz and polish are not necessary to produce narrative that is personally meaningful that resonates with others. Enjoy.